Reiki healing: how does it work and what are the benefits?
Reiki healing – also known as energy healing – has long been used by practitioners to aid wellbeing and rebalance the mind, body and soul.
The term 'reiki' is derived from the Japanese words 'rei', meaning 'universal' and 'kei', meaning 'life energy'.
'The origin of traditional reiki dates back to the early 20th century – it was created by a Japanese monk and scholar, Dr Usui, who took inspiration from ancient Buddhist healing practices,' explains Sharmin Begum, reiki healer and acupuncturist at triyoga.
'The reiki practitioner acts like a funnel to channel vast, pure, universal energy, to reconnect and establish a more harmonised optimal energy flow. Reiki holds the space to aid overall wellbeing for your mind, body and soul.'
---
---
What is reiki healing used for?
Energy healing is said to help the flow of energy throughout the body and remove negative blocks, in a similar way to acupuncture.
Begum says reiki can be used alongside traditional Western treatments to help with both acute and chronic conditions:
Stress
Anxiety
ADHD
Autism
Crohn's disease
Fatigue symptoms
Infertility
Tiredness
Chronic pain
'Reiki tends to induce a deep sense of relaxation, helping with stress and easing anxiety,' says Begum. Although Begum is keen to stress that reiki should not replace traditional medicines or therapies. 'Reiki should never be used as a substitute for western medicine. It is classified as complementary medicine, so ideally it should be used in conjunction with traditional medical treatment.'
---
---
Who can have reiki healing?
Begum reveals that, as it is a non-invasive complementary therapy, reiki is suitable for everyone, including pregnant women, babies, children and animals. And when it comes to reiki's effectiveness, you can still benefit from it even if you are skeptical of the therapy.
'I find it does not really matter if you believe in reiki or not to experience the benefits,' Begum reveals. 'I find it is best to not have any expectations – just go with the flow and see what happens. Even if you physically do not experience strong sensations during the actual reiki healing, generally people recognise the overall change in their wellbeing.'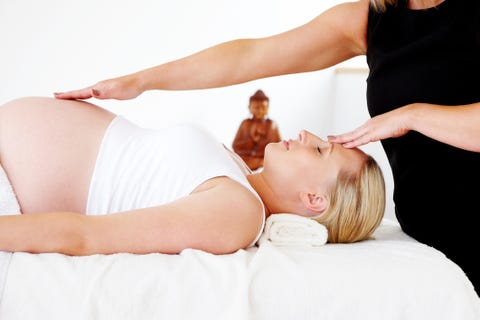 What happens in a reiki session?
Begum outlines what happens in a typical reiki session:
In a typical session, the therapist will introduce the client to reiki they will be asked if there are any particular concerns/areas in body/feelings/emotions/thoughts they would like to focus on during the reiki session.
During the session, the client will be lying down fully clothed under a blanket with their eyes closed and in silence – music is played in the background for the duration of reiki healing. The client may feel various sensations, as everyone is different. Most people experience deep relaxation, or sometimes prickling or intense cold or heat, but it is never painful and is non-invasive.
After the reiki healing, I will discuss whether anything has come up for the client and will also give feedback as to where they felt any imbalance, especially in the major chakras on the body.
As with any form of healing, aftercare is central to the practice. After a reiki session, the client is advised to take it easy, with plenty of rest and intake of water – this will further help to integrate the positive reiki healing effects. It is good to take note of any dreams or thoughts that may arise – these can give insight into the healing.
If it is the first or second session of reiki, then the client may experience detoxing effects (clearing of energies), such as feeling emotional or physically strange, or maybe even tired for a day or so. Afterwards, reiki generally seems to give most people a positive boost in energy or they feel super relaxed.
---
---
Health benefits of reiki healing
✔️ A sense of deep relaxation
✔️ Improved overall wellbeing
✔️ Lower stress levels
✔️ Reduced anxiety
✔️ Alleviated depression
✔️ Relief from physical pain
✔️ Deeper spiritual connection
Source:https://www.netdoctor.co.uk/healthy-living/wellbeing/a29397086/reiki-healing/